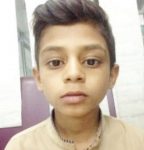 Insulin for Quality Life
Fathers look forward to their sons becoming their allies and support, but sometimes, life has its own challenges. Though treatable and common, diabetes is still a condition that no parent would ever want to think of their child enduring. Type-1 diabetes can be dealt easily with the use of timely insulin but what happens when there are not enough resources?
Muhammad Ikhlaq is a daily wager of Islamabad trying to do his best, raising a family of 5 people. With 3 sons, he saw 3 pillars that would share his burden but the floor shook beneath his feet when his youngest son Usman was diagnosed with type-1 diabetes at the age of 2.
"Holding him in my arms, I kept watching Usman with grief and asked myself that how could he live his whole life in pain?"  
Being a father, it was Ikhlaq's top priority to provide his son with insulin but limited financial capacity kept his hands tied. He had no option but to ration insulin or go with insulin options that did not suit Usman very well. This caused so much damage that Usman lost his left eye. We are glad that 12-year-old Usman's family contacted us and now, he has access to the insulin which suits him well, provided to him by us every month.
"The insulin that I could afford did not suit my son well and cost us his left eye. I can never bring that back." M.Ikhlaq.
There are many children like Usman that have access to no insulin or can only afford a certain type of insulin which may not suit them well resulting in long-term complications. With your kind contribution of only Rs 6500/- we can help a child live a normal life for one whole month.
Meethi Zindagi depends on its donors. Let us hold hands for a good cause and provide these children with an opportunity to live a healthy life.