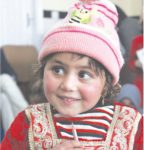 Lack of Knowledge is Darker than Night
One of the biggest misconceptions, especially in Pakistan, is that only adults or older people can get diabetes. The fact, on the contrary, is that diabetes adheres to no specific age group. It is simply a medical condition that elevates the blood sugar level in the body. The carelessness and ignorance in local clinics have cost us many precious lives.
Our next story is about precious 4 years old Asia. Her parents were concerned when they saw Asia's health declining day by day but never even imagined what the root cause would turn out to be. Life kept progressing until one day, Asia started losing consciousness. Unable to think of anything, she was taken to the nearby clinic. Instead of assessing the situation of this child through tests, the staff injected glucose in her body. Her condition worsened to a point where she remained out of her senses for multiple hours. She was immediately rushed to the ICU in time and luckily her condition started stabilizing after being given insulin.
Nazim Hussain, a watchman who has big dreams for all of his kids was devastated on the news of his daughter having diabetes. In his limited income, he barely fed his family and could not think of any way to afford regular insulin. That is when Meethi Zindagi showed its full support after being contacted and promised to provide Asia with needed insulin every month.
Another misconception that sustains in our society is the thought that a person with diabetes cannot function equal to a normal person. This is completely false. If the body is provided with needed insulin in time, then the person with diabetes is as capable of achieving great things as a person without it. Let us hold hands and help Asia live her father's dreams. Your Zakat can help many like her in need.